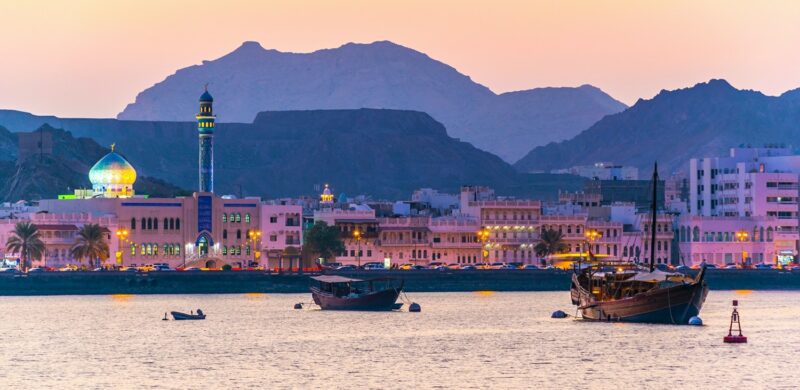 Day 1 – Saturday: (Breakfast/Dinner)
Arrival at Seeb international airport and transfer to your hotel located nearby Mutrah Souk and Old Muscat City with palace and museum.
Afternoon city tour in Muscat exploring the highlight of the city.
Al Falaj Hotel**** Mutrah or Similar.
---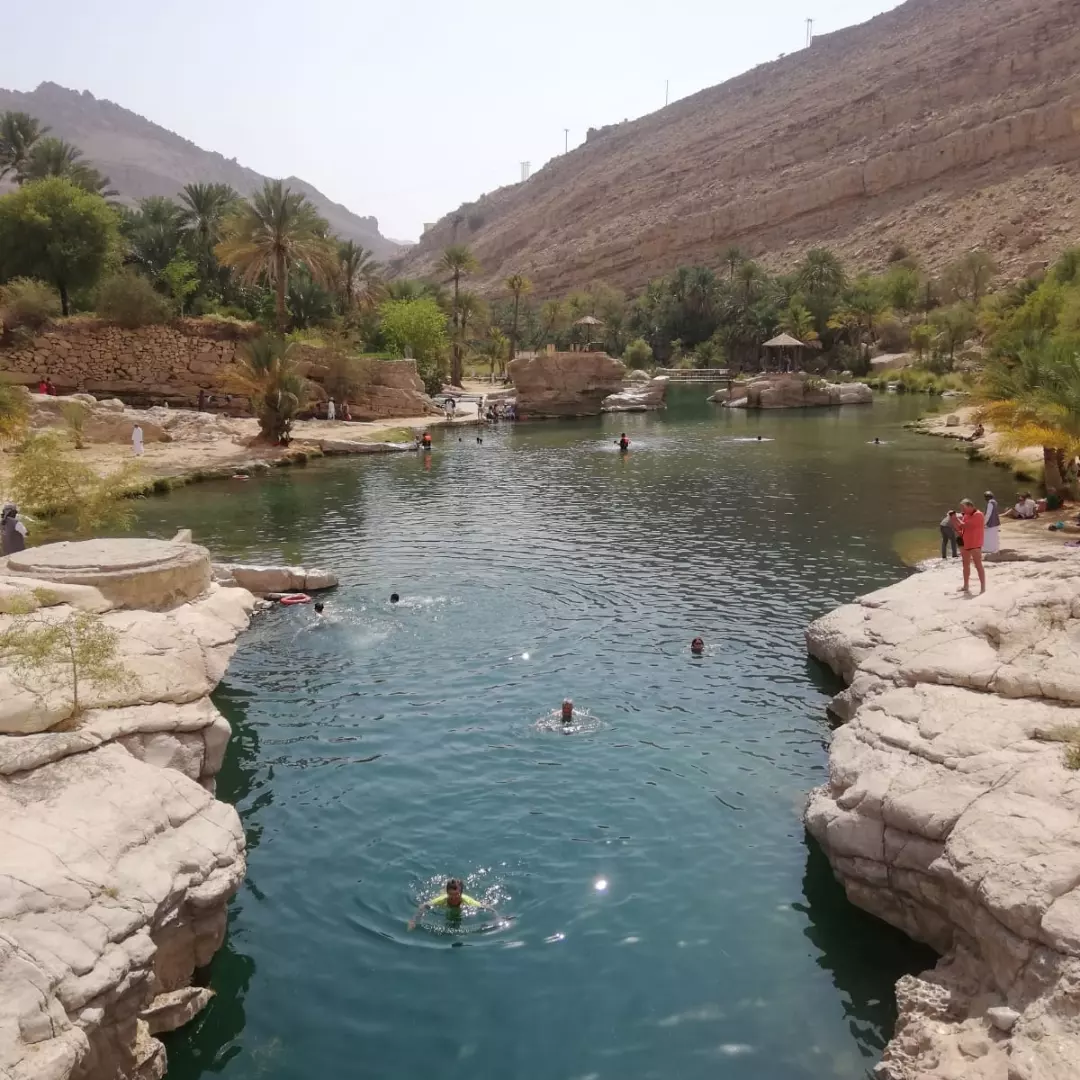 Day 2 – Sunday: (Breakfast & Dinner)
After your breakfast we will drive to wadi Beni Khalid located at 3 hours 30 minutes from Muscat. It is the best-known wadi of the Sharqiyah region. Its stream maintains a constant flow of water throughout the year. Large pools of water and boulders are scattered along the course of the wadi. As a geographical area, Wadi Beni Khalid covers a large swathe of low land and mountains. Late afternoon transfer to Bidiya desert camp.

Meeting with our horse team and briefing for next few days!!
Comfort camp overnight.
---
Days 3 to 6 – Monday to Thursday:
About 4 hours on horseback per day. The horses are waiting for us for this ride of the "Sands of the Wahiba", named after the tribe of Bedouins who live there. During the next 4 days, we will ride in this immense desert, where the wind has sculpted the dunes. We ride on an ocean of ocher sand, and we totally immerse ourselves in this universe very different from ours. The Bedouins, masters of the place, live in dwellings made of palm branches, different from the large black woolen tents of the Arabian Bedouins, which are much too hot in Oman! Camel breeding in the sultanate is very active and famous and prices can reach exorbitant sums.
---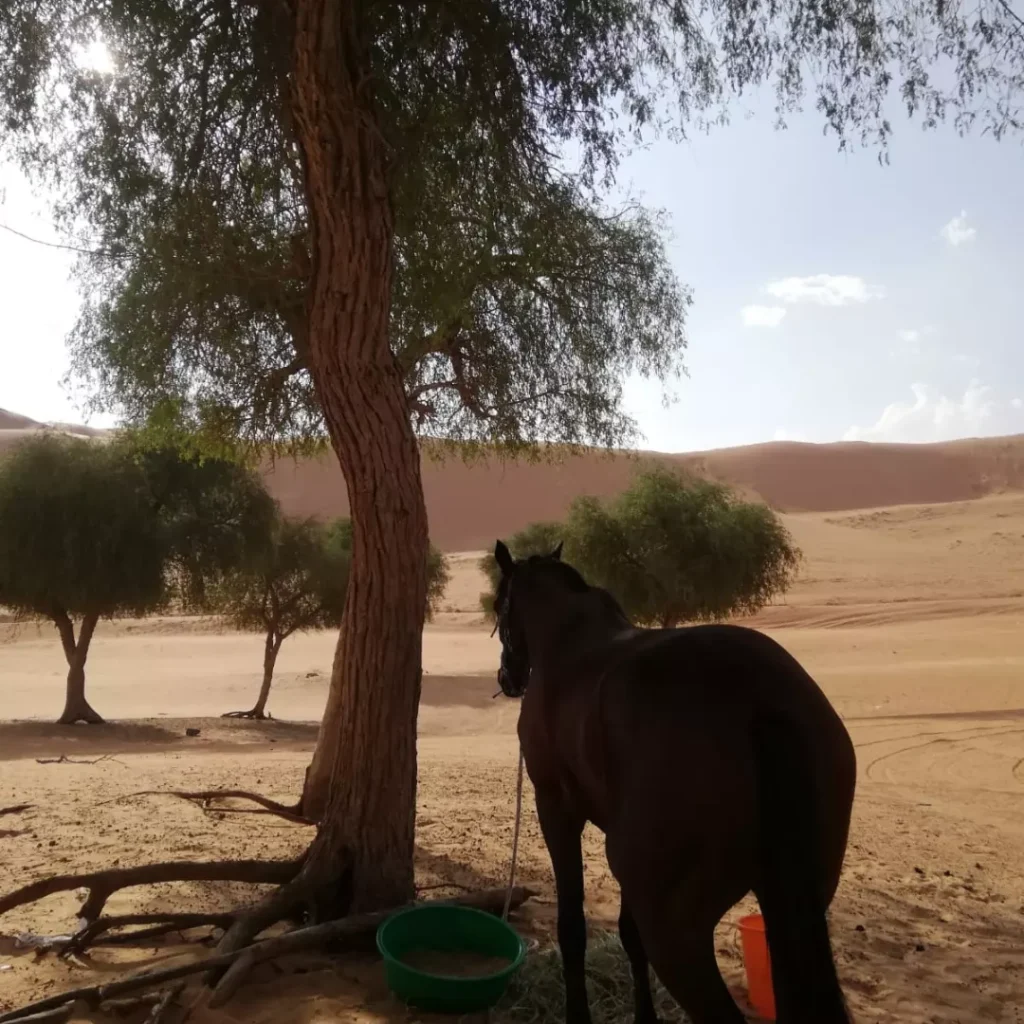 It is a strange feeling to come across young cameleers who may be the owners of real champions who will compete on the racetracks of the neighboring Emirates. This ride plunges us into the Bedouin tradition. The Bedouins are different from other inhabitants of the Sultanate, it is a world apart, hospitality and very strict rules are applied in a community where everyone knows each other. A local craft is maintained by the women, young girls sometimes come to meet us to offer us bracelets, goat wool bags… The rhythm of this equestrian adventure is dynamic, wherever the terrain allows it, we will enjoy good gallops. and long trots.
3 nights at Desert Camp with a private bathroom
After the ride we will say bye bye to our horses and team transfer to Nizwa around 2 hours' drive
overnight at Nizwa heritage house or similar
---
Day 7 – Friday: Nizwa -Al Hamra-Misfah:
Morning transfer and visit of Nizwa, the main city of the interior which was the capital of Oman. An oasis located at the southern end of Hajar Mountain, Oman's highest mountain range. The vast gardens and palm groves of the city-oasis are dominated by the old fort with the largest tower in Oman (40m in diameter, 20m in height). Falaj canals, over 500 years old, carry water into the oasis. Nizwa is an old trade with a large souk, where you can admire traditional silver jewelry and local crafts. After Nizwa we will drive 2 hours to reach Muscat, Afternoon of relaxation by the sea.
---
Lunch at al Hamra or Misfah, 2 Typicals villages at the foot of the Hajar mountains. You can visit and stroll in the village where the freshness is pleasant. Visit the Omani Falaj irrigation system. Departure for Misfah, a small typical village.
After Nizwa we will drive 2 hours to reach Muscat
Al Mouj Hotel Muscat or Similar. (Dinner Included)
---
Day 8 – Saturday departure (Breakfast)
Transfer To Airport
We can organize SEASIDE RIDE at Barka stable on request with extra night in Muscat
---
* This itinerary is given as an indication. It may be subject to change depending on weather conditions, winds, the changing nature of the terrain, the riders' physical conditions.
FLIGHTS: 
We can book your flights on request.
RIDING LEVEL: 
You must be able to walk, trot, canter and galop outdoor on open spaces. The riding time depends on the level of the group, the horses, the terrain and the weather. To be able to participate in this hike, we require a good experience of the hike, to be comfortable at 3 paces. Arabian horses are enduring but not very supportive. Thus, we ask riders over 85 kg to tell us before booking, in order to validate with the guide, the availability of a suitable horse.
GUIDE: 
Local English-speaking guide and assistants, transferring luggage and preparing meals.
HORSES: 
Arabs or crossed, well balanced, trail rides professionals. 
TACK: 
English "Wintec" saddles.
ACCOMMODATION:   
3 or 4 nights in hotels   
4 or 5 nights in comfortable camps
Tents and single rooms available with supplement.
LUGGAGE TRANSFERS: 
The assistants transfer luggage every day by car. 
Available Dates:
11 to 18 November 2023
18 – 25 November 2023.
27 December 23 to 3 Jan 24.
Price:
USD 2990 (4 Riders +) per person sharing.

-Extra Sea Side riding Day USD 350 per person.
-Single Supplement USD 870

THE PRICE INCLUDES:
• Transfers from / to airport
• Horse Riding 4/5 days
• Guide and assistance team
• 3/4 nights in 4 stars hotels
• 4 nights at comfort camp
• Full board during the ride
• Taxes.
• The financial guarantee of your payments by our travel agent bound.
THE PRICE DOESN'T INCLUDE:
• Flights
• Visa
• Individual insurance
• Drinks (other than bottled water included on the camps)
• Gratuities
• Personal Expenses
• All that is not indicated in "the price includes
---