Trip Highlights:
Dead Sea
Petra Classical Visit
Little Petra Baidah on Horseback
Wadi Rum 4 days riding
Madaba the Mosaic City
Day 1: Airport/Dead Sea: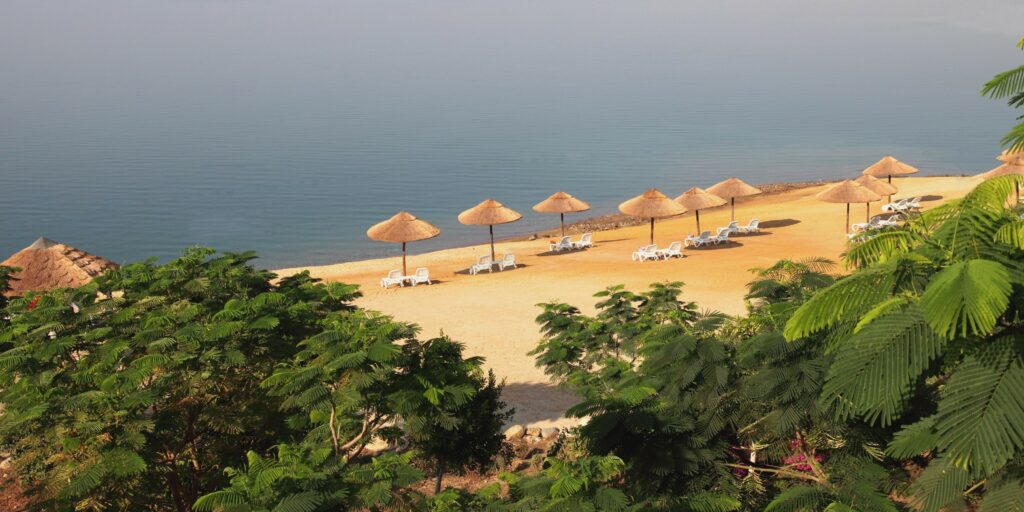 Arrival at Amman Airport Meeting with Luxury Tours Representative. Transfer to Dead Sea Holiday Inn Hotel or Similar 5 Star Hotel. Dinner included.
---
Day 2: Petra on foot (Breakfast Lunch & Dinner):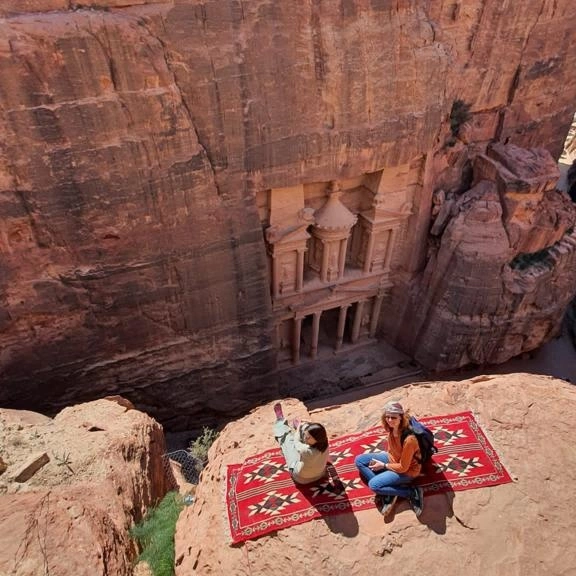 Early departure for Petra (2h30 to 3 hours' drive). On our arrival we leave our luggage at the hotel and then have the opportunity to visit this legendary site, accompanied at the beginning by a Jordanian guide (most of the time English speaking) until the exit of the Siq at Khazneh (the treasure). Then we are free to explore this majestic site on our own, transfer to Seven Wonders Luxury Camp Baidah Petra (20 Mints Drive),
Lunch at The Basin Restaurant
Seven Wonders Luxury Camp / Cabin Room
---
Day3: Little Petra ride (Breakfast, Lunch & Dinner):
Riding Day 1:
After breakfast, meeting with the local team and allocation of horses according to the level of each. We ride for our first day in one of the most beautiful places in the world to discover "Little Petra", Baidah.
Afternoon transfer to Wadi Rum 2hrs & 30mints Drive, Check in at Rum Luxury Oasis Camp.
---
Day4-7: (Breakfast, Lunch & Dinner) Comfort Camp: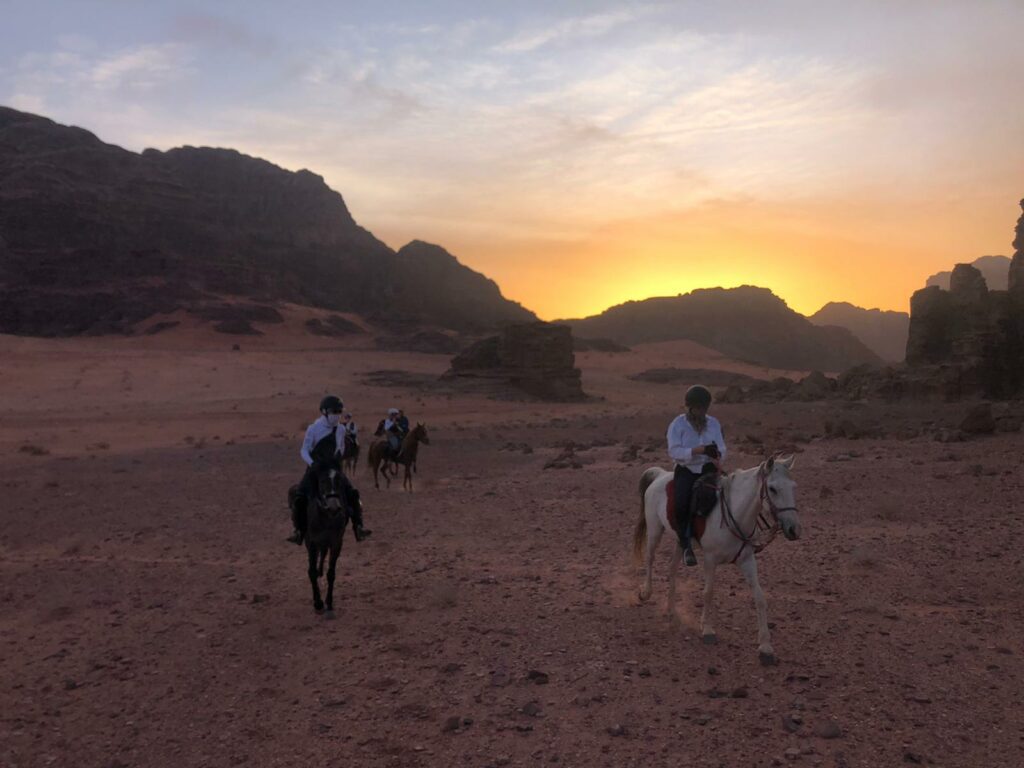 Main Attractions during the ride (Barrah Canyon, Lawrence House, Um Ishrin Canyon, Burdha Bridge, Um Fruth, Khazaly Canyon, Sand Dune, Anafishia Inscriptions, Lawrence Spring).
---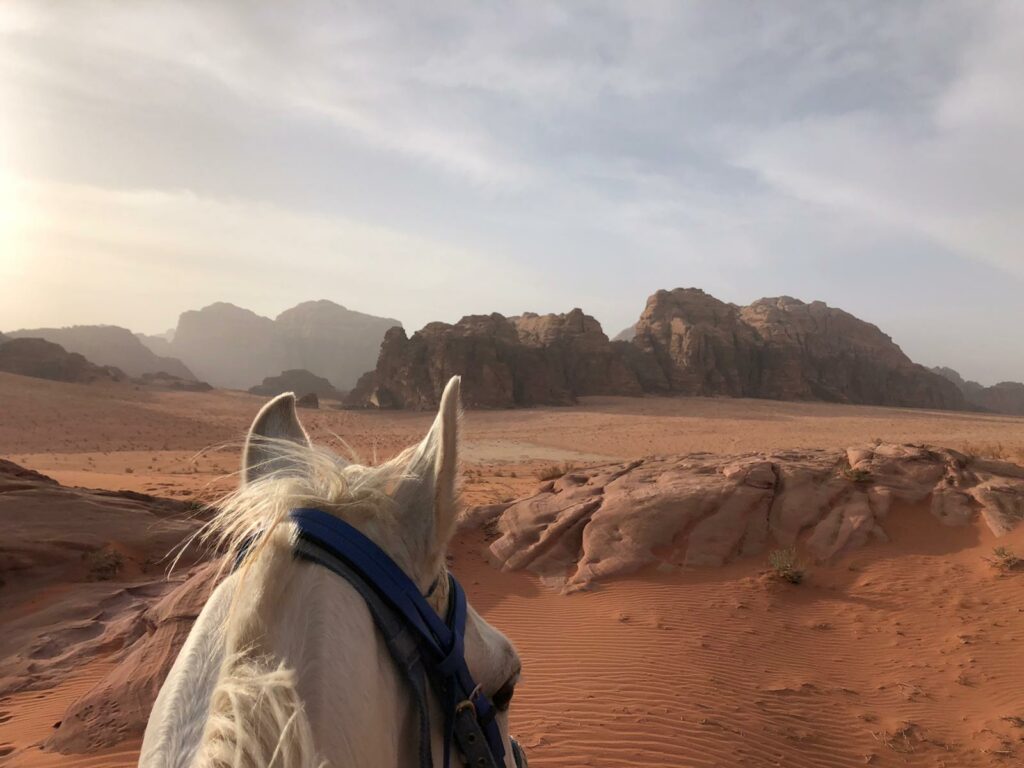 Riding day 2:
4 to 5 hours ride 20 km
Meeting horses and team in diseh which is a small village located east part of Wadi Rum protected area, we will ride south in direction of Barrah canyon and open valley – We will reach our camp for lunch take a break of 2 to 3 hours according to weather and have a lovely afternoon ride looking at the famous red Um Twiguy rock and Thamudic inscriptions.
Dinner & Overnight at the camp
Barrah canyon- red sand dune
We will ride Through Barrah, another spectacular canyon in Wadi Rum surrounded by high cliffs where we often see climbers. At the end of the canyon, we reach our lunch place. Your guide will find the best ways to cross secret canyons to reach the camp before sunset!
Dinner overnight at the Camp.
---
Riding Day 4:
Burdha Arch-mushroom rock- Al Manghour mountain –
Breakfast in camp, and then ride towards Burdha arch area. Crossing nice sandy red and magic mushroom stone sand canyons having lunch at the bottom of Burdha Mountain. Afternoon ride on a nice track with a beautiful view of the Wadi Rum red mountains.
Dinner & overnight at the Camp.
---
Riding day 5:
Djebel Ghazaly- Lawrence house – Wadi rum-
Last riding excursions in the heart of wadi rum, Ghazaly canyon, Lawrence wale.
End of riding days, say goodbye to our horses and the team.
Afternoon transfer to Amman with Farewell dinner at one of the oldest Restaurants in Town Sofra Restaurant (Jordanian Food).
Overnight at Bristol Hotel 5 Star or Similar
---
Day8 (Saturday) Departure Day (Breakfast):
Transfer to Amman International Airport.
---
Accommodation – Subject to Availability:
– Night 1 (Holiday Inn Dead Sea Beach Resort or Similar 5Star)
– Night 2 Baidah, Petra (Seven Wonders Luxury Camp)
– Night 3-6 Wadi Rum Comfort Camp
– Night 7 Amman 5 Star Bristol Hotel.
Price:
– 2220 USD per person sharing twin/dbl room.
– Sgl Supplement USD 485.
Program Validity:
All year excluding the period between 3rd of June up to 2nd of September.
THE PRICE INCLUDES:
– Transfers
– Jordan Pass. (Petra & Wadi Rum Entrance fee & Visa)
– 5 days of horseback riding
– Full board During Horse-riding days.
– Drinks (water, tea and coffee during the Horse-riding days).
– Accommodation for 2 nights at hotels in a Twin/Double room with Breakfast & Dinner.
– Accommodation for 4 nights at Comfort Camps.
– Accommodation for 1 Night at Rum Oasis Luxury Camp Breakfast & Dinner.
THE PRICE DOES NOT INCLUDE:
• Airline Ticket.
• Alcohol Drinks and drinks off riding days.
• Assistance insurance, repatriation, cancellation…
• Tips (recommendation: around 20 JOD for the whole team)
• Any service not mentioned as included
Cancelation Policy:
7 days before departure 100% to be charged.
8 – 19 Days before departure 50% to be charged.
20 – 30 Days before departure 25% to be charged.
* The programs in Jordan are given for information only. They may be subject to change; climatic conditions, winds, the changing nature of the terrain, the physical condition of the riders… daily determine the itinerary. This under the sole responsibility of the guide, in charge of the group.
---